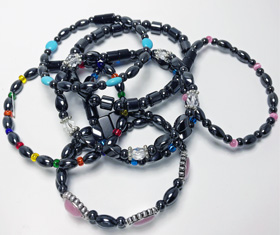 Affordable, High Quality Jewelry that Relieves
Arthritis ~ Carpal Tunnel Syndrome ~ Chronic Fatigue Syndrome Joint Pain ~ Migraine Headaches ~ Fibromyalgia ~ Insomina Stress ~ Neck and Shoulder Pain ~ Tendonitis ~ Improved Blood Circulation
A Key To Body Wellness
Magnetic Therapy is a wholly natural event. It is neither magic nor medicine. For thousands
of years the Chinese have been using magnetic therapy to help a wide varitey of ailments.
Today, in a world filled with prescription medication, people are finding there is an alternative.
Magnets have been said to help reduce pain and stiffness without any dangerous side
effect which can be associated with conventional drug and/or surgical treatments.
The use of magnetic therapy has increased dramatically. Many physical therapists,
neurologists, chiropractors and doctors are recommeding magnetic therapy to their clients.
People of all ages are using magnethic therapy as part of their daily lives.
We Offer
Affordable, high quality Magnetic Jewelry. Our Jewelry is made with super power
magnetic beads that will last a lifetime. All of our Jewelry is handmade by us.
Like any fine jewelry, children should not be allowed to play with this product. Excessive
stretching could cause the jewelry to break, and could also present a choking hazard.
Also, Magnetic Jewelry should not be place directly on credit cards, computer
hard drives, computer disks or any other device that use magneic strips.
You are a unique person and individual results may vary. Wear your Magnetic Jewelry
24 hours a day at first. You may feel benefits within 20 minutes of wearing the jewelry or
it may take up to a couple of weeks. Wear it as much as possible!! Magnetic Therapy Works
While there is still much debate in the medical community over how Magnetic Therapy
works, field reasearch has proven over and over again that in most cases it really does work.
According to recent scientific studies, Magnetic Therapy works for 9 out of 10 people.
Magnetic Therapy helps increase circulation which in turn helps oxygen
to travel through the body to parts that are damaged or injured.
If you suffer from pain, general fatigue or want to increase the speed at which your body recovers, Magnetic Therapy could be right for you. YOU HAVE NOTHING TO LOSE BUT THE PAIN
Care Instructions
The Magnets and Beads we use will not tarnish or rust, so they can get wet,
however, we recommend taking them off before showering to prevent soap buildup.
If needed, the Jewelry can be cleaned with a glass cleaner and wiped with a soft cloth.
The clasps on our Jewelry are also strong Magnets!! If you want to remove your Jewelry please
remember to separate at the clasp by snapping them a apart (like a pea), not pulling them directly apart. Pulling the clasp directly apart could cause string inside Jewelry to stretch or break.
Precautions
Do not Use if you:
Have an Insulin Pump
Have a Pacemaker
Have a Defibrillator

Or any other Battery operated devices The use of Magents should NOT replace treatment
from a qualified Medical Professional. Any self help applications is the sole responsibility of the user.